Are you looking for a reliable PLA 3D printer filament that can make all your printing projects a breeze? The Inland PLA Filament could be the perfect choice for you. It is easy to use, and its professional-grade quality will ensure that your prints are precise and clean every time. This blog post will take a closer look at the features and benefits of Inland Filament review, to help you decide if it is the right choice for your printing needs.
Overview: Inland Filament Review:
Inland PLA Filament 1.75mm has a great reputation for high-quality and affordability, making it one of the most popular filaments available on the market today. In terms of dimensional accuracy, it exceeds expectations at +/- 0.03 mm – ensuring precision with every use. For added convenience, Inland PLA comes standard with a 1 kg cardboard spool (about 2.2 lbs), that is compatible with most FDM/FFF printers.
Furthermore, Inland PLA filament exudes no odor and is clog free, allowing for an efficient printing process each time. The trusted Inland filament also comes in a beautiful white color that will turn any 3D printing project into something truly eye catching. Inland PLA 3D Printer Filament 1.75mm gives users high quality results while providing excellent value for money – a truly remarkable deal!
[i2pc show_title="false" title="Pros & Cons" show_button="false" pros_title="Pros" cons_title="Cons" ][i2pros]
Bridging is pretty good
Smooth finish nice glow
Extruding produces a quality print
Prints easy and bright white color
[/i2pros][i2cons]White color is not much attractive[/i2cons][/i2pc]
who makes inland filament?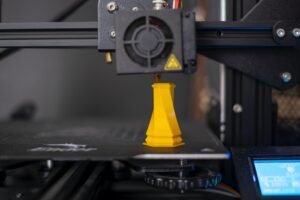 Inland is a brand of 3D printing filament that is manufactured by Micro Center, a US-based retailer of computer and electronics products. Micro Center is a retail chain in the United States that specializes in computer and electronic products. It was founded in 1979 and has since grown to become one of the largest computer retailers in the country, with over 25 locations across several states. In addition to selling computers and electronics, Micro Center also offers a wide range of other products, including 3D printing supplies and accessories.
The company's Inland brand of 3D printing filament is a popular choice among consumers and is known for its high quality and consistent performance. Inland filament is available in a variety of materials, including ABS, PLA, PETG, and flexible TPU, and comes in a range of colors and sizes to suit a variety of 3D printing needs.
Features of Inland PLA Filament Review:
Intuitively simple to operate.
Inland PLA filament is one of the best filaments out there. Effortlessly melt this filament for a seamless 3D printing experience. It produces neat corners with low warping and no unpleasant odor. Inland PLA can work with most 1.75 MM FDM and FFF 3D Printers making it a great option for anyone looking for easy-to-use filaments.
However, it is important to remember to hold the spool and filament tightly and not let them go when printing – this helps keep the filament tangle free. In addition, this filament guarantees no clogs or bubbles in your prints for optimal results. Inland PLA filament provides an excellent option for those looking for a reliable, easy-to-use filament that can guarantee quality prints!
NEW CARDBOARD SPOOL Feature:
Inland PLA filaments are the perfect way to make your creations come to life! In addition to being non-toxic, Inland also offers a cardboard spool with their PLA filaments. This is great news for makers looking for a cost-effective solution. In our Inland PLA filament review, we found that the cardboard spool is just as reliable as its plastic counterpart, and it's an eco-friendly choice too! For a short duration, customers may receive either the plastic or cardboard spool, but both work perfectly at bringing your projects and designs to life.
Completely dried filament:
Through rigorous testing procedures, Inland ensures that their filament will arrive pre-dried and vacuum sealed with desiccant in order to be compatible with almost any 3D printer. In addition, Inland PLA Filament will ensure a smooth 3D printing experience with minimal trouble-shooting needed. Inland PLA Filament is an excellent choice for anyone needing good quality filament backed by extensive testing procedures.
Read: What printer to use for printable vinyl
Benefits of Inland Filament
Inland filaments are an economical and convenient option for those who want to produce multiple 3D prints in one go. As their nozzles require a slightly higher temperature than standard filament spools, you may need to adjust your nozzle settings accordingly.
The diameter tolerance for Inland filaments is +/- 0.05mm which is very similar to Hatchbox PLA filament spools, making it relatively straightforward for users to set up their printers with these two types of filaments.
Inland PLA filaments can be used to print out items that only need to look aesthetically pleasing, such as decorative pieces or display items. But they could be weaker and not able to withstand the rigors of daily use due to lack of strength quality.
Uncovering the Truth: An In-Depth Evaluation of PLA Inland Filament Prices, Quality and Variety of Colors
Inland PLA filament is known for its affordability and good quality, making it a popular choice among hobbyist and casual 3D printers. The filament is made from polylactic acid, a biodegradable and eco-friendly material, and is available in a wide range of colors, including natural, opaque, and luminous colors.
Price:
In terms of price, Inland PLA filament is highly competitive, with a cost that is significantly lower than some of the more premium 3D printing filaments on the market. This affordability, combined with the good quality of the filament, makes it a popular choice for those who are looking to print frequently without breaking the bank.
Quality:
In terms of quality, Inland filament is generally considered to be very consistent and reliable, with good dimensional accuracy and minimal warping. The filament is also known for its smooth surface finish and good layer adhesion, which results in well-formed, detailed prints.
Overall, Inland PLA filament is a great option for those who are looking for a reliable, affordable, and versatile 3D printing filament. With its wide range of colors, good quality, and low cost, it is well-suited for a variety of printing applications, from prototypes and models to more complex and intricate designs.
PRINT SETTINGS options of Inland Filament:
Inland filament is ideal for those looking for a reliable 3D printing material that doesn't come with a hefty price tag. In terms of print settings, Inland recommends setting the extrusion/nozzle temperature between 215°C – 230°C (419°F – 446°F) and the bed temperature to be set between 60°C -80°C (140°F -176°F). Furthermore, Inland spools measure 8.81 inches (223.77 mm) in diameter and 2.81 inches (71.37 mm) in width, with a hole diameter of 2.00 inches (50.80 mm).
Inland PLA filament is definitely worth considering if you are on the lookout for a budget friendly option that offers great printing quality without costing an arm and a leg!
Unleash your boundless imagination
Inland PLA filament is the perfect material solution to unleash your creative potential. In addition to providing a great medium for both fashion design and DIY projects, this Inland filament is also great for educational purposes, as it will help spark students' imaginations and promote original thinking.
The Inland PLA filament comes in a range of colors, from vibrant primaries to more muted hues, so you can find just the right look for your project. In terms of color accuracy, Inland has you covered: their colors match what you see on the packaging or online shop almost exactly. All in all, Inland PLA filament is a great product for unleashing your creativity and fostering invention!
Why you should choose Inland 3D printing filament
Inland is the perfect choice for a 3D printing filament that can accommodate any 3-dimensional project. Inland PLA filament has been favorably reviewed by experts in the industry, who praised its unique design and variety of colors available. In addition to its high quality, Inland also offers great customer service and provides guidance for 3D printing beginners. With Inland 3D print filament, you can be sure that your project will look exceptional with great color accuracy and have a long-lasting finished product with optimal strength and coverage.
Is Inland 3D printing filament approved for food contact and consumption?
No, Inland 3D printing filament is not approved for food contact and consumption. This type of filament should only be used to create non-consumable items, such as décor and art pieces. It is not recommended to use Inland 3D printing filament when creating products that may come in contact with food. It is important to uphold safety standards and only use materials approved for food contact when creating items intended for consumption.
Conclusion:
Inland filament is an excellent choice for those looking to create 3D projects quickly, easily, and affordably. Inland offers a reliable and high quality 3D printing filament with a variety of colors available to suit any project. The filament is pre-dried and vacuum sealed for compatibility with almost any 3D printer and its print settings are easy to use and understand. Inland also provides great customer service and guidance for 3D printing beginners.
However, it is important to note that Inland 3D printing filament is not approved for food contact and consumption, so it should only be used to create non-consumable items. All in all, Inland PLA filament is a great choice for any 3D printing enthusiast!